385 cm x 74 cm – canoe – PDF plans
One person – 3,85 meter long canoe. Designed for shallow waters. A boat for beginner boat builders – very easy to build. PDF plans avalible online. One person special for you – cheap boat plans. When it comes to embarking on a tranquil journey across serene waters, the Canoe – Goldfish – one or two-person canoe plans are an epitome of excellence. Crafted with meticulous attention to detail, these plans offer an unparalleled opportunity for both amateur and experienced enthusiasts to construct their own floating haven. The comprehensive blueprints provide step-by-step instructions, ensuring precision and clarity throughout the building process. With its sturdy construction and elegant design, this canoe promises unrivaled stability and maneuverability in any aquatic environment. Whether gliding through calm lakes or navigating through winding rivers, this vessel guarantees a seamless experience for solo adventurers or companions seeking solace amidst nature's embrace. Immerse yourself in the art of craftsmanship with these carefully curated canoe plans that breathe life into your boating dreams while embracing the serenity of open waters.
Technical data of boat:
Design length : 3.850 m
Beam over all : 0.740 m
Design draft : 10cm
Displacement : 115 kg
Mass of boat: 23 kg
Plan in mm (metric scale)
Bulding method: "stitch and glue"
You need for build this boat:
4 pcs – 6 mm waterproof plywood (1250 x 2500 mm)
1 pcs – 10 mm waterproof plywood (1250 x 2500 mm)
2 pcs – 15 x 20 mm – pine / cedar slat for gunwale – 4,5 m long
PDF plans and manual of assembly – Only: 8 $ USD
---
KIT – Cut parts for the boat – on request
---
Complete boat – on request.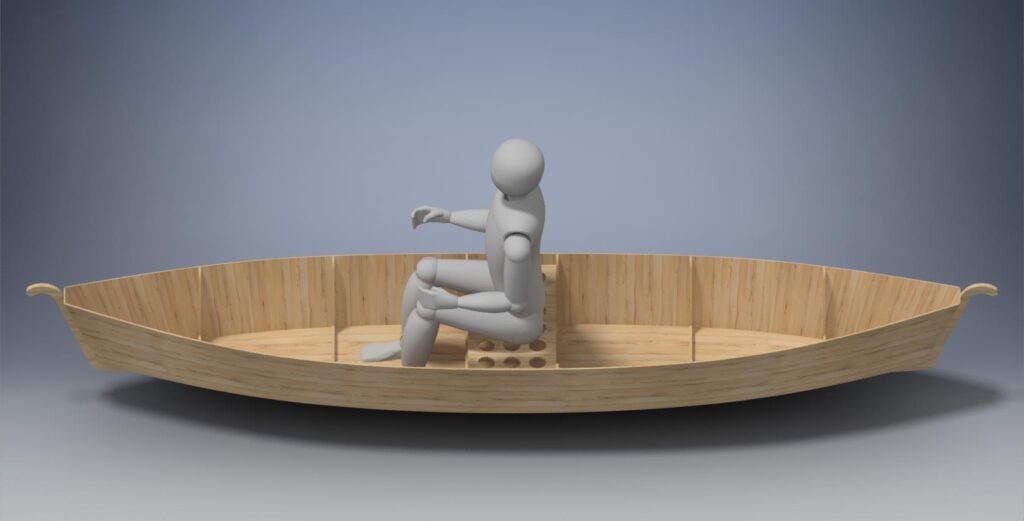 PRE ORDER THIS PLANS
WITH 50% DISCOUNT!!!
If you have any question for this boat or "pre order" plans – write us.
Interested this boat? Write us: info@free-boat-plans.com or use form below.
Tags: plywood boat plans; aluminum boat plans; plywood boat kits; aluminum boat kits;